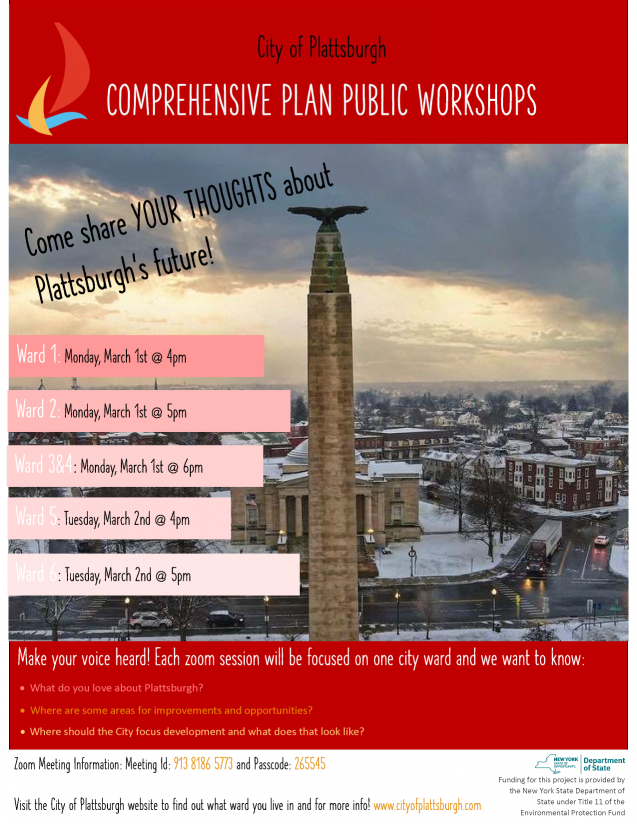 What is a comprehensive plan?
In simplest terms, it's a development guide. It's a general statement of goals, objectives, and standards upon which proposals for the immediate and long-range growth and development of the city are based. The plan is based upon the needs and wants of the City and its residents. Therefore, the City is holding a series of public workshops to gather information from the community to help shape the document and the future of the city.
Things we want to know are;
What do you love about Plattsburgh?
What do you think is missing?
What kind of development do you think will foster a stronger fiscal and social economy?
Plattsburgh has a lot of potential for growth and we want you to be a part of the progress. Come make your voice heard on March 1st and 2nd at one (or more) of the City's virtual work sessions via ZOOM. Go to ZOOM and enter Meeting ID # 913-8186-5773 and Passcode 265545. 

We hope to see you there! 

If you can't attend the work session, no problem! Please complete a planning questionnaire here:  https://www.surveymonkey.com/r/W29SYQR
 
---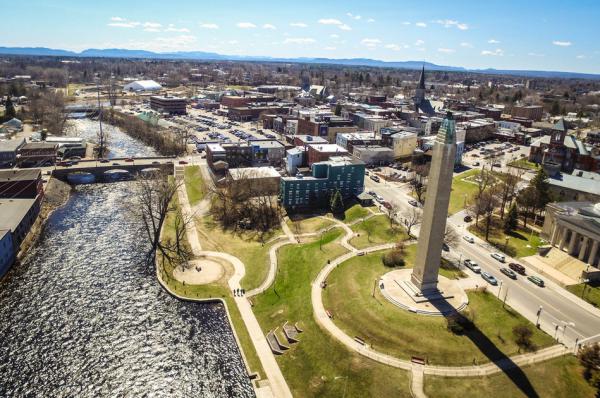 Project Overview
The City of Plattsburgh is a community extraordinary in its orientation to Lake Champlain and the Saranac River that possesses rich environmental, recreational, historical, cultural, artistic, and economic resources. Our trails, parks, marinas, and boat launches will maximize access to our waterways, creating unforgettable recreational experiences and optimizing permanent public access. This is the vision statement from the City of Plattsburgh's draft Local Waterfront Revitalization Program (LWRP). The purpose of the program is to outline a vision for the city's waterfront, set forth policies and a management structure to implement the program, and identify key projects that will increase access to the waterfront, promote recreational opportunities as well as preserve the land for future generations.

In 2018 the city received a second EPF LWRP grant to finalize the document as well as update the city's Comprehensive Plan and city codes.  A committee of sixteen community members has been assembled to advise the process and a team of consultants led by Saratoga Associates will be responsible for completing the project. 
Coordinating development of the LWRP with the Comprehensive Plan and city code updates is an excellent way to ensure that the City's planning and regulatory framework will meet the City's goals for revitalization of the waterfront and support the natural, cultural, and economic resources so vital to the City's future.
Public Advisory Committee Information
Meeting updates and other information from the PAC are below.
Relevant Documents
Public Comment
The City and the Advisory Committee encourage residents to review the documents and make comments. This is the first stage of public engagement for both the LWRP and the Comprehensive Plan with multiple public meetings and community outreach slated for the coming months. Click the link below to leave comments!
https://www.cityofplattsburgh-ny.gov/form/public-comment-form-for-lwrp-com