The Ted K. Center provides educational, social and recreational services to youth and families residing in the Plattsburgh Housing Authority developments.
Current programs include an Early Childhood, After-School and Summer program. The Center has a state of the art computer lab which is networked and internet connected, an art department, a playground and outdoor play area. Center staff provides daily activities focused on the core areas of creativity, physical fitness, homework completion, computer learning, nutrition education and general recreation.
Who is Ted Kowalczyk?
Ted Kowalczyk worked as Educational Coordinator at the John Collins Center for over 30 years enhancing youth programming in the community. Ted's innovative work style and commitment to developing the individual talents of youth has made it possible for the Center to provide an array of unique services and programs. Instead of trying to fit youth into existing programming, he creatively developed resources to meet the individual needs of youth providing guidance in the development of vocational and employment opportunities for youth. Many of the programs provide hands-on-learning and employment opportunities. The youth of John Collins Center as well as community youth as a whole have had a myriad of opportunities thanks to Ted's perseverance, dedication and innate ability to "think outside the box". Upon his retirement in September 2004, the John Collins Center was renamed as the Ted K. Center in honor of Ted's demonstration of true commitment to helping all youth succeed.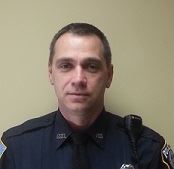 Officer Carman Rotella
Ted K. Center
8 Tyrell Avenue
Plattsburgh, NY 12901
Plattsburgh Police Department
45 Pine Street
Plattsburgh, NY 12901
518-563-3411